« Liberian Women And Children Victims Of UN Peacekeeping
|
Main
|
The Despicable Leak »
May 1, 2005
Organizing The 'Theocracy' Witch Hunt In New York
As further evidence of the Left's efforts to chase the religious from all public debate, a conclave of secular humanists and Leftists have gathered in New York to strategize on the further marginalization of religious belief, issuing dire warnings of the impending secular Apocalypse by theistic Anti-Christs. The Washington Post reports that Democratic politicians, People for the American Way, and assorted anti-religious groups have assembled to hiss at pictures of Bill Frist, among other activities:
Secular humanists and leftist activists convened here over the weekend to strategize how to counter what they contend is a growing political threat from Christian conservatives.

Understanding and answering the "religious far right" that propelled President Bush's re-election is key to preventing a "theocracy" from governing the nation, speakers argued at a weekend conference.

"The religious right now has an unprecedented influence on American politics and policy," said Ralph White, co-founder of the Open Center, a New York City institution focused on holistic learning. "It is incumbent upon all of us to understand as precisely as possible its aims, methods, beliefs, theology and psychology."

The Open Center, founded 21 years ago, played host to the two-day conference at City College of New York called "Examining the Real Agenda of the Religious Far Right."

People for the American Way, a liberal advocacy group that opposes religion in the public square, co-sponsored the conference, which drew about 500 participants.

"This may be the darkest time in our history," said Bob Edgar, general secretary of the left-leaning National Council of Churches and former six-term Democratic congressman from Pennsylvania. "The religious right have been systematically working at this for 40 years. The question is, where is the religious left?"
PFAW has put itself in the center of the Democratic efforts to filibuster appellate nominees of George Bush over the past two years and more. It has raised funds for Democratic Senate candidates and staged protests all over the country. Now they openly endorse such hate-filled conferences such as this, where Bob Edgar talks about nominating a handful of people who believe in God to the appellate court as "the darkest time in our history" -- as opposed to slavery, Civil War, Jim Crow, the Great Depression, the Sedition Acts, Watergate, and so on. It's the Hysterics Conference, attempting to paint religious belief as the new witchcraft and church-going Americans as its new purveyors.
Edgar isn't the only one spouting deranged and hyperbolic rhetoric in New York, either:
The United States is "not yet a theocracy," Joan Bokaer, founder of TheocracyWatch.org, said Friday night, but she argued that "the United States is beginning to fit the model of a reconstructed America."

Tax cuts combined with increased funding for faith-based social programs and decreases in welfare spending, Ms. Bokaer said, were examples of "the theological right ... zealously setting up to establish their beliefs in all aspects of our society."

She compared the Federal Communications Commission's threatened crackdown on indecency on television with the Taliban, the repressive Islamic rulers of Afghanistan who harbored Osama bin Laden's terrorist network until toppled by a U.S.-led invasion.

"Indecency police are a major part of theocratic states," Ms. Bokaer said, flashing a picture of Islamic women covered head to foot under the title, "Taliban: Ministry for the Protection of Virtue and Prevention of Vice."
This rant relates to the enforcement of existing FCC regulations keeping indecent material off of public broadcast airwaves, regulations which are hardly new or an indication of any recent political shift. The commissioner most vocal about enforcing them, Michael Powell, was a Democratic nominee to his post. Congress supported increasing fines for such violations in a bipartisan vote. So who are the extremists here? If such regulation offends the majority of Americans, the laws can easily be amended or struck down by Congress.
The use of the Taliban imagery sets up just another hysterical strawman, arguing that Christianity as practiced in America -- or anywhere else, for that matter -- winds up as extreme as Islamofascism, and that the current administration somehow exists as a Trojan horse for such efforts. Not only is such a charge ludicrous, it's patently offensive, given the amount of effort expended and criticism received (from the same Leftists that make this comparison!) in Bush's efforts to liberate people from Islamofascist rule. Nowhere in the world can they point to a single Christian 'theocracy', not even the Vatican which may be the only government that actually qualifies as such, where such traditions exist.
This orgy of namecalling and paranoid conspiracies gets its impetus from such politicians as Howard Dean, Al Gore, and Ken Salazar, who have green-lighted a war on religion from the Left, especially during this debate over judicial filibusters. They have rationalized the unprecedented obstruction of qualified judicial nominees for their religious beliefs by creating out of whole cloth a threat to the Republic from Christianity, which managed to co-exist with democracy and promote it for over 200 years up to now.
They have created a modern-day voodoo called Dominionism and smeared all church-going people as covert members of its conspiracy. Supposedly, all Christians have worked for centuries to transform America into an Old Testmant-based theocracy with high priests instead of elected officials -- somehow forgetting that for Christians, the New Testament takes precedence over the Old. Otherwise, we'd live under the same precepts as Orthodox Jews, holding Saturday as the Sabbath, eschewing pork, and avoiding cheeseburgers.
The ignorant, bigoted, and the paranoid members of the Left, in this case, hold positions of power in the Democratic party. PFAW in particular has a central place in their electoral politics and strategies, especially when it comes to fighting judicial nominees. These people want to recreate Salem 1692, only they want to discredit faith in itself as a source of values. That's what the modern Democrat Party has decided to endorse in 2005.
When Edgar asks what happened to the religious Left, he misses the point. Religious liberals -- and there are many -- have finally awoken to the fact that the Democrats don't just oppose conservatives, they oppose faith and believers expressing their values in the public square. They want to impose a secular prerequisite on any political debate, where any argument that might come from faith-based values such as opposition to abortion have been predetermined to be invalid and therefore extremist. That cuts out not just conservatives, but a wide swath of the center-left as well from engaging in political debate.
These paranoid bigots have almost guaranteed the demise of the religious Left. The Democrats have made clear in their rhetoric that they hate faith, and they hate those who practice their faith.
BUMP: To top.
Sphere It
View blog reactions
Posted by Ed Morrissey at May 1, 2005 11:18 AM
Trackback Pings
TrackBack URL for this entry is
Listed below are links to weblogs that reference Organizing The 'Theocracy' Witch Hunt In New York:
» Liberal Bigots from Wilson Fu Weblog
Captain Ed has a piece on the liberal freak out of over religion in public life.... [Read More]
Tracked on May 1, 2005 12:19 PM
» Fear of God from Hennessy's View
Recently, a very good man, a Bishop in the Old Catholic church, wrote to me about his concern that I live in fear of God rather than in the light of God's infinite love and mercy. His message made me realize that I had been, up to that point, too vagu... [Read More]
Tracked on May 1, 2005 2:03 PM
» OF HUNGRY LIONS AND BURNING STAKES from Right Wing Nut House
Can't we all just get along? The rhetoric on both sides of the religious debate has plain and simple gone too far. Now, don't get me wrong. I enjoy hyperbole as much as the next political hothead. But this idea that the religious right is about re... [Read More]
Tracked on May 1, 2005 2:28 PM
» Organizing Against Religion from Decision '08
Casual readers of this blog may think I have overblown the hostility of certain elements of the Left toward religion. It's certainly possible for a reasonable person to conclude that some of the recent Republican congressional activity has been over ... [Read More]
Tracked on May 1, 2005 3:21 PM
» Are ALL Democrats Bigots? from Toe In The Water
Captain Ed has some observations, questions and commentary [Read More]
Tracked on May 1, 2005 3:51 PM
» More Lunacy From the Anti-Theist Loony Bin from The Anti-Idiotarian Rottweiler
(Via LC & IB Captain's Quarters)NEW YORK -- Secular humanists and leftist activists convened here over the weekend to strategize how to counter what they contend is a growing political threat from Christian conservatives. Understanding and answering th... [Read More]
Tracked on May 1, 2005 4:24 PM
» The Religious Left? Is There One? from Dangerous Dan
Captain Ed points out this story (subscription required) of liberals meeting to discuss the growing American theocracy. I've always been a little mystified by this idea. The fact that religious groups would try to use their collective clout to influe... [Read More]
Tracked on May 1, 2005 4:51 PM
» Christophobic McCarthyism from Hard Starboard
How can one know that Christian evangelicals have become a force to be reckoned with in American politics? Just read this: Secular humanists and leftist activists convened here [in New York City] over the weekend to strategize how to counter ... [Read More]
Tracked on May 1, 2005 7:56 PM
» Head of National Council of Churches Wonders: from Bird of Paradise
"Where is the Christian left?" The answer, Mr. Edgar, is right in front of you, in back of you and all around you. Look carefully and you will see the "Christian left" slowly sinking into the pluralistic relativism of holistic, secular humanism. Y... [Read More]
Tracked on May 1, 2005 9:03 PM
» Mainstream from Random Birkel
In case any of you guys didn't think mainstream Democrats have a fundamental misunderstanding of religion (some might even say hatred) you should read the following. [Read More]
Tracked on May 1, 2005 11:08 PM
» Salem, 2005 from what if?
As most readers of what if? know, I'm not a religious person. [Read More]
Tracked on May 1, 2005 11:33 PM
» Organizing The 'Theocracy' Witch Hunt In New York from Hyscience
The open hostility of religion by the left continues as exemplified by this post on what amounts to a convention of secular humanists and leftist activists. These Democrats are making it clear in their rhetoric that they hate faith, and people of faith. [Read More]
Tracked on May 2, 2005 8:54 AM
» The theocrats are coming! The theocrats are coming! from rgcombs.blog-city.com
Some of my best friends are Christians. Now that they're about to seize total control of the country, I wonder if they're going to kill me for being a heathen, or if they'll just enslave me. For the scoop on the people who really worry about this, re [Read More]
Tracked on May 5, 2005 7:28 AM
Captain Ed:
captain*at*captainsquartersblog.com
My Other Blog!
E-Mail/Comment/Trackback Policy
Comment Moderation Policy - Please Read!
Skin The Site

Hugh Hewitt
Captain's Quarters
Fraters Libertas
Lileks
Power Line
SCSU Scholars
Shot In The Dark
Northern Alliance Radio Network

Northern Alliance Live Streaming!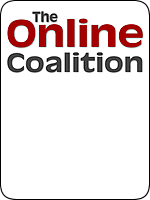 Proud Ex-Pat Member of the Bear Flag League!