« Can We Just Stick To The Debate?
|
Main
|
First Mate Back Home »
June 1, 2004
Raines Rants, Advises Kerry To Lie Better
Howell Raines writes an editorial in tomorrow's London Guardian expressing serious concerns about John Kerry as a candidate, and in the process exposes the obvious bias he inculcated into the New York Times as editor-in-chief before his ignominious fall from the Jayson Blair affair. Raines' Bush-hatred comes through, loud and clear, even while he argues persuasively that John Kerry hasn't demonstrated any of the requisite skills to beat the incumbent.
First off, though, Raines displays an amazing lack of historical knowledge that explains why the New York Times only discovers homelessness during Republican administrations:
As America's first war-hero candidate since John F Kennedy, he ought to be leading the national discussion on what went wrong in Iraq.
Raines either forgets or never knew that the first President Bush flew fighter missions in World War II, was shot down in the Pacific, and didn't come back to the US afterwards to accuse his fellow soldiers of atrocities. Unfortunately, Raines' silliness doesn't end there, even when his target is ostensibly Kerry:
But for his current series of speeches on national security issues, he rounded up a series of experienced hair-splitters from the Clinton years - Richard C Holbrooke, James Rubin, Sandy Berger - and they produced a script that would have played very well before the Council on Foreign Relations. The speeches were intended to fire up his campaign, toughen his image and to modify - without disowning - his Senate vote for the war. The problem is that speeches that sound right at the Council don't necessarily work for an electorate schooled to respond to simple messages.
Get that? Raines thinks that Americans are just too stupid to understand Kerry. In fact, that becomes the central point of Raines' entire screed -- that the American public elected Bush out of affinity for his cluelessness, and that Kerry needs to put on an act of simplemindedness in order to get elected. In fact, Raines goes so far as to encourage Kerry to lie outright in order to get votes:
[Kerry] must appeal to the same emotions that attract voters to Republicans - ie greed and the desire to fix the crap-shoot in their favour. That means that instead of talking about "fixing" social security, you talk about building a retirement system that makes middle-class voters believe they will be semi-rich someday. As matters now stand, Kerry has assured the DLC, "I am not a redistributionist Democrat."

That's actually a good start. Using that promise as disinformation, he must now figure out a creative way to become a redistributionist Democrat.
Does the Gray Lady's performance over the past few years come into clearer view now? No wonder Jayson Blair did so well at the Times. He wrote what Raines wanted to read, regardless of whether what he wrote was true. It's amazing that a representative of the American media can write such a bitter and cynical column. Without a doubt, Raines manages to score some points off of Kerry, the supposed subject of his column, in between insulting George Bush and American voters in turn:
I personally find him easier to talk to than Al Gore, but there's no denying that he's ponderous. And he's pompous in a way that Gore is not. With Gore, you feel that if he could choose, he would have been born poor and cool. Kerry radiates the feeling that he is entitled to his sense of entitlement. Probably that comes from spending too much time with Teddy Kennedy, but it's a problem. The TV camera is an x-ray for picking up attitudinal truths, and Kerry's lantern jaw and Addams Family face somehow reinforce the message that this guy has passed from ponderous to pompous and is so accustomed to privilege that he doesn't have to worry about looking goofy. It's as if Lurch had gone to Choate.
Other than that, Raines spends most of his time at the Guardian rolling out the hoary canards with which he stuffed the New York Times' news and editorial sections. Bush is greedy and stupid. Bush is a draft dodger whose daddy kept him out of Vietnam (although I fail to see Raines reconcile this meme with his and Kerry's support in 1992 and 1996 of Clinton's efforts to avoid the draft). Bush looks like Goofy -- no, I'm not kidding, go read his conclusion. All in all, it's a great imitation of the NYT's editorial page with the politesse surgically removed with a rusty scalpel. Too bad his removal has done little to improve his former soapbox.
Addendum: Just to rebut Raines -- the American public isn't too stupid to understand that every issue has more than one side, nor does it fail to appreciate leaders who consider all options. But what elections recognize is leadership, which means making decisions and sticking with them. Kerry tries to pander to all sides by voting one way and arguing another on almost every issue. The problem that Raines misdiagnoses is that Kerry doesn't seem to stand for anything except whatever will get Kerry elected, which hardly inspires anyone except Mrs. Kerry. Unfortunately, Raines' advice only magnifies his problem.
UPDATE: Welcome, Instapundit readers!
UPDATE II: Welcome, Neal Boortz readers! For all of you who may be new to Captain's Quarters, take a look around, and bookmark or blogroll CQ if you like what you see. Enjoy your visit!
UPDATE III: A big welcome to Best of the Web readers, too! [Hope this makes you happy, AST!]
Sphere It
View blog reactions
Posted by Ed Morrissey at June 1, 2004 10:20 PM
Trackback Pings
TrackBack URL for this entry is
Listed below are links to weblogs that reference Raines Rants, Advises Kerry To Lie Better:
» First It Infected His News Judgment, Now It's Infected His Brain from Ipse Dixit
And people wonder why we hold the "mainstream" media in such contempt. [Read More]
Tracked on June 2, 2004 9:11 AM
» Quick Hits from QandO
So much I want to blog about, but so little time.... *** I wanted to tear into this inexplicable Howell Raines piece, but life is short. And Captain Ed has already hit it. Luskin has good points, too. I'll just... [Read More]
Tracked on June 2, 2004 9:13 PM
» I/we count coup on Howell Raines. from Obsidian Wings
On behalf of the Right side of the blogosphere, that is - hey, it's a Vast Right-Wing Conspiracy, remember? That makes apparently noncausal chains of events OK - and I use his Guardian article as proof. Now, just so we're [Read More]
Tracked on June 3, 2004 12:05 AM
» Kerry's House of Ketchup #14 from The American Mind
Kerry speaks. Welcome to the latest edition of Kerry's House of Ketchup mildly admonished by Glenn Reynolds. Memorial Day... [Read More]
Tracked on June 3, 2004 12:58 AM
Captain Ed:
captain*at*captainsquartersblog.com
My Other Blog!
E-Mail/Comment/Trackback Policy
Comment Moderation Policy - Please Read!
Skin The Site

Hugh Hewitt
Captain's Quarters
Fraters Libertas
Lileks
Power Line
SCSU Scholars
Shot In The Dark
Northern Alliance Radio Network

Northern Alliance Live Streaming!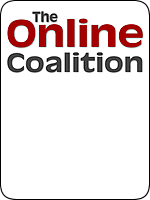 Proud Ex-Pat Member of the Bear Flag League!