« My Position On Abortion
|
Main
|
Caption Contest Winners -- All Of Us! »
July 5, 2004
Kerry Flip-Flops On Life
Despite having a more consistent record on abortion than any other issue in his career, John Kerry yesterday tried to have it both ways again, flip-flopping on the definition of human life. Kerry tried to pander to Catholics and strict Christians but instead raised far more questions than he answered:
But even as he tried to avoid making news Sunday, Kerry broke new ground in an interview that ran in the Dubuque, Iowa, Telegraph Herald. A Catholic who supports abortion rights and has taken heat from some in the church hierarchy for his stance, Kerry told the paper, "I oppose abortion, personally. I don't like abortion. I believe life does begin at conception."

Spokeswoman Stephanie Cutter said that although Kerry has often said abortion should be "safe, legal and rare," and that his religion shapes that view, she could not recall him ever publicly discussing when life begins.

"I can't take my Catholic belief, my article of faith, and legislate it on a Protestant or a Jew or an atheist," he continued in the interview. "We have separation of church and state in the United States of America." The comments came on the final day of a three-state Midwest swing, during which Kerry has repeatedly sought to dispel stereotypes that could play negatively among voters there.
Not only does this completely belie every vote Kerry has ever taken on the subject of abortion, including his support of the late-term abortion procedure sometimes called partial-birth abortion, but it demonstrates the intellectual and philosophical bankruptcy of the Democratic nominee. It is true that Catholics and a large segment of Christians overall believe that life begins at conception, which is why these groups oppose all abortion altogether. Other people believe that life begins at "viability", the moving target of when a baby can survive outside the mother's womb. Others still believe that life cannot be defined until birth itself and separation from the mother.
These beliefs and definitions lead to one purpose: to define life so as to protect it. After all, only the lunatic fringe wouldn't try to defend innocent life, once established. Catholics wish to protect life from conception forward, and others seek to protect it from their definition of its inception. John Kerry, in his remarks to the Iowa newspaper, comes up with a completely different raison d'etre -- he seeks to define life so as to protect his political career. Kerry now admits he practices hypocrisy on a scale so monstrous, it boggles the mind.
If life begins at conception, why then does Jon Kerry not only agree to allow abortion, but campaigns on its behalf? Does he care so little for human life and the souls of the unborn that he cheerfully sells them out for political gain? John Kerry was one of only 14 Senators who voted to continue the practice of partial-birth abortions, which take a fetus past the point of viability into the birth canal and kills it by sucking out its brain. How does that match up with a belief in life at conception?
No. Unlike those who define life differently, and who therefore have a consistent philosophical argument to support abortion, Kerry's actions do not equate with these professed beliefs. Either Kerry has trotted out a new lie in order to shore up his Catholic support, or he has opened the window into his heartless, calculating political soul. Not only that, but even those who support abortion must be scratching their heads, wondering if Candidate Kerry will toss them under a bus with as much alacrity as he has his principles.
And that really gets us to the crux of this statement. Kerry not only has voted to support abortion, he openly campaigned for it, up to the point that he found himself running for national office. Now he says he personally opposes abortion but felt as though he could not impose his "beliefs" on others. If true, Kerry also never felt the need to argue for his beliefs, to try to convince others of the truth of his own beliefs. Many others, including George Bush and a whole Party of politicians, have managed to stand up for what they believe is right and still be successful. What other beliefs will Kerry find as easy to sell out for political expediency?
Sphere It
View blog reactions
Posted by Ed Morrissey at July 5, 2004 7:39 AM
Trackback Pings
TrackBack URL for this entry is
Listed below are links to weblogs that reference Kerry Flip-Flops On Life:
» Rationalizing Life from Shot In The Dark
People who favor "choice" rationalize it in many different ways; most commonly, they quibble with the actual beginning of life, or more often the "Viability" of life. Using this rationale, France and Germany allow abortion through the first seven and... [Read More]
Tracked on July 5, 2004 9:59 AM
» John Kerry Is Right from Up For Anything
Now how often did you think you'd see me write that on my blog? I'm sure amy is doing a spit-take (if she's drinking while reading). But it's true. John Kerry is right about at least one thing (and... [Read More]
Tracked on July 5, 2004 2:55 PM
» Kerrymandering On Abortion from Jay Reding.com
John Kerry is once more taking heat for his position on abortion, after an interview where he stated he was personally against abortion. Now, some are going to say this is a nuanced position designed to placate both sides of the abortion debate, and... [Read More]
Tracked on July 5, 2004 3:57 PM
» an obscene pander from andunie.net
Does Kerry truly believe that religious convictions are illegitimate in the public square? How then does he view the overtly Christian motives of the Founders, or of those who opposed slavery, or of those who more recently labored for civil rights? [Read More]
Tracked on July 5, 2004 4:02 PM
» Life Begins at Conception? from New Trommetter Times
Kerry Says He Believes Life Starts at Conception [Read More]
Tracked on July 5, 2004 7:18 PM
» Kerry on Abortion from Kalblog
I wouldn't only go hard on Kerry for his stance on abortion, as some have. Even if he's the one running for president, it's actually a common point of view in America these days. I remember my girlfriend in college... [Read More]
Tracked on July 5, 2004 10:49 PM
» A Revealing Position on Abortion 3 from Michael Williams -- Master of None
The first in this series was by John Kerry's wife, Teresa Heinz Kerry, and now the candidate himself echos his wife's bizarre position: But even as he tried to avoid making news Sunday, Kerry broke new ground in an interview... [Read More]
Tracked on July 5, 2004 11:20 PM
» John Kerry Flips on Abortion from Fringe
Captain's Quarters has a great report of John Kerry's flip-floppery on abortion. He's now apparently in the camp that believes life 'begins at conception'. Which makes one wonder how he can so blatantly support abortion, including partial-birth abortio... [Read More]
Tracked on July 6, 2004 8:05 AM
» Perilously close to murder from Hawspipe
Can we all agree that the protection of innocent life is a proper role for government and that laws protecting innocent people from intentional harm are not violations of the Establishment Clause or the so-called separation of church and state? I ... [Read More]
Tracked on July 6, 2004 10:26 AM
» "Kerry-meleon" from DOUBLE TOOTHPICKS - Culture Wars & The Christian Worldview
[UPDATE 7/6/04] Captain's Quarters, one of my favorite blogs, is talking about The Big Green Flip-Floppin' Kerry-meleon too... Kerry stated: "I oppose abortion, personally. ..." Wha? Well, and here I thought Kerry was a Massachusetts liberal in good... [Read More]
Tracked on July 6, 2004 3:55 PM
» Life Begins ... Life Ends from Discriminations.us
I have already said quite a bit (see here and here) about the tension -- and I believe ultimate incoherence -- of liberal Catholics' attempt to have their cake and eat it too on the abortion question, an attempt that [Read More]
Tracked on July 6, 2004 11:06 PM
» Senator Flip-Flop from :: Political Musings ::
The latest about face by Kerry is on abortion. This one is truly stunning, as Ed Morrissey points out: If life begins at conception, why then does Jon Kerry not only agree to allow abortion, but campaigns on its behalf? Does he care so little for h... [Read More]
Tracked on July 8, 2004 5:23 PM
» Breaking News: Kerry Indecisive from The Beacon
A new AP/Ipsos poll released today finds Americans believe Bush is decisive and Kerry is not. The poll is of registered voters, not likely voters, so I don't put much stock in how it might translate in November. However, it does reveal how Americans th... [Read More]
Tracked on July 13, 2004 3:48 PM
Captain Ed:
captain*at*captainsquartersblog.com
My Other Blog!
E-Mail/Comment/Trackback Policy
Comment Moderation Policy - Please Read!
Skin The Site

Hugh Hewitt
Captain's Quarters
Fraters Libertas
Lileks
Power Line
SCSU Scholars
Shot In The Dark
Northern Alliance Radio Network

Northern Alliance Live Streaming!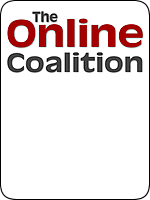 Proud Ex-Pat Member of the Bear Flag League!