« Inside Blogger's Corner
|
Main
|
Typekey Registration Now Required »
August 30, 2004
Mayor Koch Visits Blogger's Corner
Former New York Mayor and "lifelong Democrat" Ed Koch paid a visit to Blogger's Corner and spoke about his support of George Bush.
The mayor started off informally by asking us whether we would consider his weekly e-mail columns to be the equivalent of blogging, which we unanimously rejected. We think he'll be blogging in the next couple of months.
The mayor took a few questions from the collected RNC bloggers, which I will do my best to transcribe in this noisy environment:
Q: You came out for Bush early on in this race, Mayor.
A: 2002.
Q: Why so early?
A: I believe I was the first to use the term "Bush Doctrine" in my commentary ... I don't agree with him on any domestic issues, taxes, Social Security, abortion, you name it ...
Q: Education?
A: Maybe education, although I think he's underfunded it. But I said, all of the issues are trumped by standing up to and dealing with international terrorism. That is the Bush doctrine, which he enunciated when he came before Congress, that he would go after the terrorists and the countries that harbor them. ... Now, the Democrats don't have the stomach for this. It's regrettable, because I'm a Democrat. I believe I represent more Democrats than Senator Kennedy or a whole host of other people like him. ... He's done good things in his life, but he doesn't represent the heart and soul of the Democratic party ... [Senator Kennedy] is an arch ultra-liberal! ... The party has been taken over by the Deaniacs, which is what the media called them, not me ...
John Kerry got their vote when they realized that Dean couldn't win, and he [Kerry] tells them what they want to hear. First he voted for the authorization for the war against Iraq, he stood up and he supported it. And then when he went to the various conventions to get delegate support, he changed his point of view! And he said that he had been misled! ... Then when he was more recently asked what he would have done if he knew then what we know now, he said he still would have voted for the war. So who do you believe? Which John Kerry? The one who talked to the Deaniacs and said he was sorry that he cast his vote for the war? Or the one who more recently said, "I would have done it anyway"? ...
Q: I'm a New Yorker, and saying that you support President Bush because of his stand on the war on terror makes perfect sense to me. Are you disappointed that more New Yorkers don't share that view?
A: New York is an ultraliberal town. How I ever got elected in New York, I've never been able to figure out. [Laughter.] It was always the primaries where I had my struggle, and then when I went into the general election, I would get 75% of the vote, 78% of the vote. Everybody voted for me, irrespective of party. I would say this -- I love New York. I love every one of the crazies.
Q: John Kerry says he wants to wage a more sensitive war on terror. What kind of message do you think that sends?
A: [crosstalk] What is a sensitive war? I don't know what that means. [Laughter] They -- the fundamentalist fanatics, not all Muslims -- but hundreds of millions of them want to kill us. I don't want to be killed. And I'd rather kill them, over there, than have our people killed over here. The Christians, the Jews, the Hindus -- all the people who don't accept Islam as supreme -- the people who follow Islam have made Osama bin Laden the most popular figure in all of Islam. In all of Islam! I saw a figure, what 99% of Muslims supports Osama. I don't know, I read that.
Q: Do you think there's a need to form a third party today?
A: I'm a Democrat. I was born a Democrat, and I'm going to die a Democrat. I've voted overwhelmingly for Democrats. I've crossed party lines before. Never for a Republican president. I did for mayor -- I voted for Lindsay, I voted for Giuliani ... You know, I'm 80 years old. I don't want anything from anybody. I'm never running for anything again. I dont want to be mayor again. I love being a partner in my law firm. ... I want to do what's right for the people of the United States.
Q: All the Democrats say --
A: Who cares?
Q: You don't care?
A: I will tell you this ... I got four letters. That's all. I got four letters [protesting his endorsement of Bush] and when I answered them, I said I served in public life for 23 years. Councilman, Congressman, and Mayor. I think I know a lot about public affairs. I spent my life doing it. Don't I have the same right as you have to make a decision as to whom I will support? Now we don't agree. I doubt that I will be able to convince you, I know you won't agree with me, but can't you respect my decision? And I got a letter back saying, "Yes." This was from someone who had written me a miserable, rotten letter. ... [Laughter] I've got nothing to lose.
Q: I've been a New Yorker for 10 years, and I'm a Republican. Is this convention "here today, gone tomorrow"? Do you see any lasting effect from the convention?
A: What do you mean?
Q: Do you see this as a Republican party-building exercise?
A: No. New York won't go Republican. Look, I'm a lifelong Democrat. Normally, I want to vote for the Democrat.

(more as I transcribe it)
Sphere It
View blog reactions
Posted by Ed Morrissey at August 30, 2004 10:52 AM
Trackback Pings
TrackBack URL for this entry is
Listed below are links to weblogs that reference Mayor Koch Visits Blogger's Corner:
» Reasons to Vote FOR Bush from infidel cowboy
The swiftboat vets for truth ads controversy is a mere distraction from what should be the focus of this election. It is long past time for us to stop fighting the Vietnam war. While I blame Kerry for bringing it... [Read More]
Tracked on August 30, 2004 12:35 PM
» RNC: Mayor Koch Visits Blogger's Corner from Right Reading Room
Captain Ed (CaptainsQuartersBlog.com) filed this Bloggers Corner interview with Ed Koch: Q: You came out for Bush early on in this race, Mayor. A: 2002. Q: Why so early? A: I believe I was the first to use the term... [Read More]
Tracked on August 30, 2004 3:00 PM
» RNC Bloggers: Interview of Ed Koch from voices.in.my.head
Captain Ed at Captain's Quarters has the transcript from an interview with Former NY MayorEd Koch at the RNC. Some good words and interesting points. [Read More]
Tracked on August 30, 2004 9:53 PM
Captain Ed:
captain*at*captainsquartersblog.com
My Other Blog!
E-Mail/Comment/Trackback Policy
Comment Moderation Policy - Please Read!
Skin The Site

Hugh Hewitt
Captain's Quarters
Fraters Libertas
Lileks
Power Line
SCSU Scholars
Shot In The Dark
Northern Alliance Radio Network

Northern Alliance Live Streaming!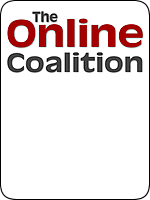 Proud Ex-Pat Member of the Bear Flag League!