« Did Yesterday's Report On Brown's Speech Do Her Justice?
|
Main
|
Volcker: Annan Not Cleared At All »
April 27, 2005
No Syrian WMD Transfer? Not So Fast ...
Reports based on the release of addenda from last year's Iraqi Survey Group (ISG) report by Charles Duelfer claim that the ISG stated categorically that no evidence existed of WMD being shipped into Syria, one of the explanations given by several high-ranking officers at CENTCOM for the lack of WMD found in Iraq. However, the Washington Times reports this morning that the ISG report did not make any such categorical denial of WMD transfers. In order to understand the nuances of the ISG addenda, take a look at the wording of the original CNN report:
"ISG judged that it was unlikely that an official transfer of WMD material from Iraq to Syria took place," the report said.

The group also said it had been unable to complete its investigation because of security concerns and couldn't rule out an "unofficial" transfer of material. ...

"It is worth noting that even if ISG had been able to fully examine all the leads it possessed, it is unlikely that conclusive information would have been found," the report said.
What does this tell us? First, by its inclusion in the addenda and not the main body, it tells us ... nothing. The data remains inconclusive, and that's all. ISG could not go into Syria, nor into the Bekaa Valley that until this week was controlled by Syria, to determine if any kind of transfers took place. The only conclusion they could reach is that official transfers never took place, meaning that Saddam's files contained no records of any such movement of materiel between Iraq and Syria. The report further tells us that had the ISG had the time and resources to follow up on the leads provided, they still probably would find out nothing, given the geopolitical difficulties of invading Syria to complete the investigation.
Had Duelfer and the ISG meant to conclusively state that no WMD transfers of any kind had occurred, it would not have been left as a footnote or an addendum. That usage indicates an explanation for an unfulfilled mandate of the mission, not a positive conclusion, as a close read of the language used indicates.
The Washington Times article makes this more clear. In reading other parts of the same addenda, the ISG obviously did not intend to close the books on a Syrian transfer of WMD, and in fact still believe that such a scenario not only was possible, but somewhat likely:
Inspector Charles Duelfer, who heads the Iraq Survey Group (ISG), made the findings in an addendum to his final report filed last year. He said the search for WMD in Iraq -- the main reason President Bush went to war to oust Saddam Hussein -- has been exhausted without finding such weapons. Iraq had stockpiles of chemical and biological weapons in the early 1990s.

But on the question of Syria, Mr. Duelfer did not close the books. "ISG was unable to complete its investigation and is unable to rule out the possibility that WMD was evacuated to Syria before the war," Mr. Duelfer said in a report posted on the CIA's Web site Monday night.

He cited some evidence of a transfer. "Whether Syria received military items from Iraq for safekeeping or other reasons has yet to be determined," he said. "There was evidence of a discussion of possible WMD collaboration initiated by a Syrian security officer, and ISG received information about movement of material out of Iraq, including the possibility that WMD was involved. In the judgment of the working group, these reports were sufficiently credible to merit further investigation."

But Mr. Duelfer said he was unable to complete that aspect of the probe because "the declining security situation limited and finally halted this investigation. The results remain inconclusive, but further investigation may be undertaken when circumstances on the ground improve."
The media spin on WMD remains in full force. The truth is that without a full reckoning and complete access to the entire Southwest Asia area, no WMD search could possibly be complete. Nor does the evidence in the report support a conclusion that the WMD did not exist, as the above quote shows. Duelfer and his team did not stop because the WMD didn't exist; they stopped because they had run out of time, resources, and jurisdiction. Duelfer recommends further investigation, a clear indication that he believes the question remains open on WMD transfers to Syria, a recommendation that CNN and other media sources predictably leaves out of their reports.
UPDATE: Welcome, Instapundit readers! BTW, Sundries Shack also noticed the same point yesterday; take a look at Jimmie's post there as well.
Sphere It
View blog reactions
Posted by Ed Morrissey at April 27, 2005 6:26 AM
Trackback Pings
TrackBack URL for this entry is
Listed below are links to weblogs that reference No Syrian WMD Transfer? Not So Fast ...:
» No WMD — oh, except for those from JackLewis.net
From the Washington Times: The CIA's chief weapons inspector said he cannot rule out the possibility that Iraqi weapons of... [Read More]
Tracked on April 27, 2005 8:22 AM
» Syria has WMD and connections to terrorists from The Jawa Report
Whether or not Iraqi WMDs were moved to Syria is the least of our worries. The Syrians produce their own WMD and they are not allies in the GWOT. Does the ISG report really claim that there were no transfers... [Read More]
Tracked on April 27, 2005 9:06 AM
» The View from the Bottom from The Sundries Shack
You know, some days it just stinks being one of the tiny bloggers. Here's a good case in point. Today, Glenn Reynolds linked to a story from Captain's Quarters on the Syria Addendum to the Duelfer Report. Captain Ed made the same fundamental point... [Read More]
Tracked on April 27, 2005 9:07 AM
» No WMD? from hubs and spokes
Yesterday, I was watching ABC News (for some reason), and caught a report crowing about the fact that the Iraqi Survey Group had finished its work and had conclusively found no evidence that WMD had been transferred out of... [Read More]
Tracked on April 27, 2005 9:48 AM
» OH FOR A ONE ARMED WMD EXPERT! from Right Wing Nut House
The last two days have seen two stories appear in two newspapers about the same report; The Iraq Survey Group's Final Report on the search for WMD's in Iraq. One would think that given both the Washington Post and Washington Times were looking at the... [Read More]
Tracked on April 27, 2005 10:03 AM
» Give Up Already, Please from The nTrain
I thought supporters of going into Iraq had already adopted an artificial, ex post facto, coalescing raison d'action: democratization. But I was wrong. Harping on words as if Charles Duelfer's comments are some sort of Rosetta Stone, Captain Ed prescie... [Read More]
Tracked on April 27, 2005 10:11 AM
» Iraq May Have Shipped WMDs to Syria from RightPundit
The old media reported yesterday that the Duelfer Commission had completed its task of reviewing whether there were weapons of mass destruction in Iraq by concluding Iraq did not ship WMDs to Syria during the negotiations leading up to the invasion. T... [Read More]
Tracked on April 27, 2005 10:27 AM
» MSM Inconsistent Reporting on Duelfer Report from The Unalienable Right
Did Iraq send WMD to Syria or not? The MSM has some disagreement about the Iraq Survey Group's conclusion. Headline from the NY Times: "Arms Move to Syria 'Unlikely,' Report Says" Headline from the Washington Post: "Report Finds No Evidence Syr... [Read More]
Tracked on April 27, 2005 12:56 PM
» Did they or didn't they? from The Common Room
In the end, we may never know, but today an article in the Washington Times reports: The CIA's chief weapons inspector [Charles Duelfer] said he cannot rule out the possibility that Iraqi weapons of mass destruction were secretly shipped to Syri... [Read More]
Tracked on April 27, 2005 2:12 PM
» No Transfer Of WMD's? from Say Anything
... [Read More]
Tracked on April 27, 2005 2:24 PM
» Extreme Media Follies from Hard Starboard
Here's a poll with some seriously confused respondents. Most Americans believe news coverage is biased and negative, but they also say they respect journalists and trust what they hear and read. A national survey conducted by the Miss... [Read More]
Tracked on April 27, 2005 3:34 PM
» No Syrian WMD Transfer? Not So Fast ... from Homeland Security Blog Area
Moderator's Note: HT Capt. Ed at Captain's Quarters - excellent analysis The MainStream Media still can't figure out the "shell" game all the ME players are playing. Now that the Syrians have vacated Lebanon perhaps we will learn the full story o... [Read More]
Tracked on April 27, 2005 4:12 PM
» Around the Blogosphere 5-2-05 from Parableman
I've had no truly interesting searches since Thursday, so we'll go right on to the roundup: Captain's Quarters questions some mistaken reports about what the Iraq Survey Group has said. They have a little footnote indicating that the evidence is... [Read More]
Tracked on May 2, 2005 4:36 PM
Captain Ed:
captain*at*captainsquartersblog.com
My Other Blog!
E-Mail/Comment/Trackback Policy
Comment Moderation Policy - Please Read!
Skin The Site

Hugh Hewitt
Captain's Quarters
Fraters Libertas
Lileks
Power Line
SCSU Scholars
Shot In The Dark
Northern Alliance Radio Network

Northern Alliance Live Streaming!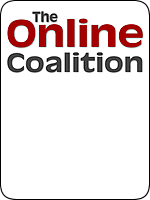 Proud Ex-Pat Member of the Bear Flag League!