« SCOTUS Limits Illegal Immigrant Access To Courts
|
Main
|
Kurds Show Why Saddam Had To Go »
June 22, 2006
Kerry Doubles His Support!
John Kerry has managed to double his support for the cut-and-run amendment he offered to the defense authorization bill. He got 13 votes instead of six by extending the deadline for withdrawal from Iraq to July 2007 rather than the end of the year. Roll call to follow shortly ...
UPDATE 10:53 CT: Bill Nelson of Florida voted against the Levin resolution, crossing party lines. The so-called "cut and jog" appears headed to defeat as well. Ben Nelson of Nebraska also voted against it -- but of course, Linc Chafee (R-RI) voted to support it. Mary Landrieu (D-LA) also voted against it. So far all of the red-state Democrats appear to be coming out against it.
10:59 - Joe Lieberman voted against the Levin resolution. While that remains consistent with Lieberman's previous support for the war and the long-term strategy -- recall that he alone among his caucus acknowledged the progress made in Iraq, even before Zarqawi was killed -- it impresses me that he did not bend to help his primary challenge from the Left.
Levin's resolution failed 60-39. This should conclude the debate over the long-term strategy in Congress. Both houses have now spoken, and both houses have supported the White House strategy in Iraq.
11:09 - Ben Nelson of Nebraska, not Bob (fixed it above). Thanks to The Influence Peddler for the quick catch! The Defense Authorization Bill now faces a cloture vote. If debate ends on this bill, it should put an end to any further exploration of panicked retreat for the foreseeable future. Cloture appears to have a wide margin of support and should pass on a wide bipartisan basis.
11:17 - I missed this, but Michelle Malkin reference to Sideshow Bob Democrats seems most appropriate today. In a fortnight where we have disposed of the main terrorist in Iraq and rolled up a huge section of the networks that he led, this nervous effort to demand an end to our efforts in beating the terrorists in Southwest Asia rather than fighting them here seems almost comical.
I'm waiting for the roll calls to be posted at the Senate web site ...
11:22 - Cloture passes, 98-1. Want to guess who cast the only vote to continue debate? Russ Feingold.
12:07 - Roll calls are up for both votes now. On the Kerry amendment, the yeas were:
Akaka (D-HI)
Boxer (D-CA)
Durbin (D-IL)
Feingold (D-WI)
Harkin (D-IA)
Inouye (D-HI)
Jeffords (I-VT)
Kennedy (D-MA)
Kerry (D-MA)
Lautenberg (D-NJ)
Leahy (D-VT)
Menendez (D-NJ)
Wyden (D-OR)
No real surprises there. Perhaps Leahy might come closest to an eyebrow raise, but this pretty much sums up the clueless caucus in the Senate.
The yeas are more extensive on Levin's non-binding resolution. Notable for their party switches are Linc Chafee in support, as I noted above. Hot Air has the list of Dems who switched:
Dayton (D-MN)
Landrieu (D-LA)
Lieberman (D-CT)
Nelson (D-FL)
Nelson (D-NE)
Pryor (D-AR)
Dayton's vote surprises me. Of all those who I thought would support a cut-and-run, his vote would have been near the top of my list. The rest, except Lieberman, all come from solid red states.
Sphere It
View blog reactions
Posted by Ed Morrissey at June 22, 2006 10:43 AM
Trackback Pings
TrackBack URL for this entry is
Listed below are links to weblogs that reference Kerry Doubles His Support!:
» How's That Debate Going? from A Blog For All
Today's voting is supposed to be showcasing potential Democrat candidates for 2008 - at least according to the WaPo. Well, it does provide yet another opportunity for a soundbite generator to operate. [Read More]
Tracked on June 22, 2006 11:15 AM
» Senate rejects calls on Iraq troop pullout from Stop The ACLU
Via AP The GOP-controlled Senate on Thursday rejected Democratic calls to start withdrawing U.S. troops from Iraq by years' end, as the two parties sought to define their election-year positions on a war that has grown increasingly unpopular. ... [Read More]
Tracked on June 22, 2006 11:23 AM
» Democrats believe in Cut and Run from Assorted Babble by Suzie
*Update* -Vote Total: Senate defeats 13-86...Kerry's Bill. Via Fox News: Senate Rejects Kerry Plan to Withdraw U.S. Troops From Iraq Next Vote: Levin-Reed Bill -Withdrawal Amendment!! Another Democrat Attempt *UPDATE* DEFEATED Votes: 39-60.... [Read More]
Tracked on June 22, 2006 11:31 AM
» Senate Hearings Today - Kerry Cut and Run Amendment, Levin Non-Binding Sense of Senate from Webloggin
Kerry and Levin Defeated. Both Senator Clinton and Senator Hagel mentioned in the debate that the Iraq war has lasted longer than our presence in the Korean War. I have no doubt that we will hear this new theme repeated often as the detractors of the w... [Read More]
Tracked on June 22, 2006 11:32 AM
» Only Two Choices, Victory or Defeat from Morning Coffee
Today's Boston Globe has an Oped piece by Joan Vennochi entitled "A Military Draft Might Awaken Us". Essentially she wants to reinstate a military draft, Not because the Military needs or wants it, not even because she thinks th... [Read More]
Tracked on June 22, 2006 12:26 PM
» Lurching Toward Oblivion from Hard Starboard
Kerry II doubled Kerry I's support - it got massacred 86-13. Levin/Reed only failed 60-39, though, showing to everybody but Lurch and the "nutroots" that discretion is, after all, the better part of cowardice. [Read More]
Tracked on June 22, 2006 12:47 PM
» Surrender, Failure, Abandonment Still Unpopular from Suitably Flip
Two new cut-and-run plans were put to votes in the Senate today, one courtesy of Senators John Kerry (D-MA) and Russ Feingold (D-WI), the other from Carl Levin (D-MI) and Jack Reed (D-RI). [Read More]
Tracked on June 22, 2006 1:21 PM
» John Kerry's leadership capability from The Unalienable Right
Senator John Kerry, exhibiting his great leadership abilities, managed to get twelve other senators to go along with his surrender resolution today. The Senate voted overwhelmingly to reject the idea of a date-certain pullout from Iraq in July 2007. F... [Read More]
Tracked on June 22, 2006 3:34 PM
» Kerry's Flip Gets Flopped In The Senate from PartisanTimes.com
In a vote that can be described as anything but close, the Senate overwhelmingly defeated a John Kerry inspired bill that called for an immediate troop withdrawal from Iraq. The Washington Post reports:Senators . . . voted 86-13 to defeat [Read More]
Tracked on June 22, 2006 4:05 PM
» Both Democratic Resolutions Rejected from Liberty and Justice
Kerry's resolution did not have a chance from the start. Politically I think that this was a major mistake for him: he now has put himself completely off line with the majority of the Democratic Party. These resolutions were, as I see it, a big mistake. [Read More]
Tracked on June 22, 2006 4:51 PM
» The Cut N' Run Bills from Flopping Aces
So four Democratic Senators bring up resolutions to cut and run from Iraq, and both failed….surprise surprise. Most people in this land, at least those with some common sense…aka non-leftists…understand the importance of finishing a ... [Read More]
Tracked on June 22, 2006 7:23 PM
» Dems Want Change from Pirate's Cove
Of course, beyond some platitudes of surrender, they do not offer a plan for the change: Democrats want a different direction in Iraq. Republicans back President Bush. "The public is very happy about the fact that we have not been attacked since ... [Read More]
Tracked on June 22, 2006 9:02 PM
Captain Ed:
captain*at*captainsquartersblog.com
My Other Blog!
E-Mail/Comment/Trackback Policy
Comment Moderation Policy - Please Read!
Skin The Site

Hugh Hewitt
Captain's Quarters
Fraters Libertas
Lileks
Power Line
SCSU Scholars
Shot In The Dark
Northern Alliance Radio Network

Northern Alliance Live Streaming!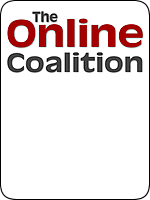 Proud Ex-Pat Member of the Bear Flag League!