« Barone On Bush
|
Main
|
South Koreans Start Enforcing Sanctions »
October 26, 2006
A Muddle On Same-Sex Marriage
The big news yesterday came from the New Jersey Supreme Court, which gave an odd split decision on the subject of gender-neutral marriage. On one hand, the court ruled that gay couples have no expectation of the right to marry -- and on the other hand, they ordered the state legislature to provide them with a way to gain all of the incidentals to marriage. It almost guarantees another round of condemnations for judicial activism, and does little to clarify the issue in any significant way:
New Jersey's highest court ruled on Wednesday that gay couples are entitled to the same legal rights and financial benefits as heterosexual couples, but split over whether their unions must be called marriage or could be known by another name, handing that question to the Legislature.

In a decision filled with bold and sweeping pronouncements about equality, the New Jersey Supreme Court gave the Democratic-controlled Legislature 180 days to either expand existing laws or come up with new ones to provide gay couples benefits including tuition assistance, survivors' benefits under workers' compensation laws and spousal privilege in criminal trials.

Four justices said that lawmakers, not the court, should decide whether to call those arrangements a marriage, a civil union or something else, while three dissenters said the state Constitution demanded that gay couples, like their heterosexual counterparts, be allowed to wed.

The New Jersey court did not go as far as Massachusetts, which in 2003 became the first state to permit gay marriage. Instead, it could be considered the new Vermont, which created civil unions for gay couples in 2000, in the politically, legally and culturally charged world of same-sex marriage.
It had bold language, but not all that terribly bold, and it really skirts the real issue in favor of the superficialities of the relationships themselves. In fact, the court split not on the essentials of their principles but on their application. They unanimously ruled that New Jersey had to treat gays and straights equally, but only three of the seven said that meant official government recognition of the relationships as marriages. The other four decided that separate but equal applied better to gender-neutral relationships than race relations.
It's a strange decision, one that relies on some boilerplate preamble language to discover new rights for gay couples. They use Article I, paragraph 1 as the crutch to put together this new and unimagined right:
All persons are by nature free and independent, and have certain natural and unalienable rights, among which are those of enjoying and defending life and liberty, of acquiring, possessing, and protecting property, and of pursuing and obtaining safety and happiness.
Nothing in this states in any way that New Jersey citizens have endorsed gay marriage. It doesn't even address the terms of "equal protection", although the court unanimously decided that it's there if you look hard enough. It's hard to understand how natural law can somehow be construed as to force government to officially sanction gender-neutral relationships, against the will of the people of the state.
What I find amazing is that courts cannot simply conclude that two adults should have the right to form contractual relationships, regardless of gender or the degree of sexual relationship. Gays rightly want to have the ability to determine issues such as hospital access, estate planning, tax partnerships, and so on -- the "incidentals of marriage", as the court puts it. The court ordered the legislature to recognize these relationships as either marriages or civil unions, but both are basically contractual relationships, and the government recognizes and enforces these routinely.
True libertarians would argue that government should stop sanctioning marriages altogether and just treat them at the contractual level. It's not necessary to go that far, however. All that needs be done is to formalize all of the government-recognized incidentals as building blocks of normal contracts. That would allow not just same-gender couples in sexual relationships to gain these incidentals, but also elderly siblings looking to avoid tax implications for estate planning, friends who wish to partner on health benefits, and so on. The government could limit people to one such contract at a time and insist on formal partnership dissolutions to mark their end. We could call them "personal partnerships" and add onto existing contract law to regulate them as necessary.
This way, government can still recognize the importance of heterosexual marriages as a particular kind of contract, while treating other contractual relationships with the same care. The other relationships gain the economic security they seek while not disturbing the traditional understanding of marriage. At the very least, this approach has the virtue of basing itself on long-understood laws and principles of legal partnerships, while various courts stretch preamble material into strange new laws never envisioned by their writers.
This issue really is simple. If two adults want to live together, nothing stops them from doing so, no matter the gender composition of the relationship. The government cannot stop adults from doing so, and has no real interest in doing so. What gays want is an active government sanction for the relationship, and that is a legitimate public policy interest for the people of New Jersey -- and the people should make that decision. As long as gay couples can contract as described above, no one faces any kind of discrimination for their relationships.
Like so much surrounding the issue of gay marriage, this decision has provided more hypocrisy than light. The court refused to legislate, but then ordered the legislature to pass a law on its behalf. That's judicial activism no matter whether the court refuses to acknowledge it.
Sphere It
View blog reactions
Posted by Ed Morrissey at October 26, 2006 5:10 AM
Trackback Pings
TrackBack URL for this entry is
Listed below are links to weblogs that reference A Muddle On Same-Sex Marriage:
» New Jersey Court Rules In Favor For Same Sex Unions from Stop The ACLU
New Jersey rules in favor of Gay Marriage. New Jersey's highest court ruled Wednesday that gay couples are entitled to the same rights as heterosexuals, but that lawmakers must determine whether the state will honor gay marriage or some other f... [Read More]
Tracked on October 26, 2006 7:00 AM
» About the Children: Gay Marriage from ShrinkWrapped
In 1974 the Supreme Court substituted its judgment for the more complicated, slowly developing, textured legislative approach to abortion and ushered in 32 years and counting of controversy which has done much to sour our national political discourse. ... [Read More]
Tracked on October 26, 2006 9:07 AM
» Wingnut Roundup - Joisey Edition from AGITPROP: Version 3.0, Featuring Blogenfreude
Do you suppose the wingnuts are freaking about the New Jersey Supreme Court decision directing the legislature to give gays rights that every other Garden Stater has? Count on it (and yes, one is a direct quote): Ace of Spades [Read More]
Tracked on October 26, 2006 12:49 PM
» Wingnut Roundup - Joisey Edition from AGITPROP: Version 3.0, Featuring Blogenfreude
Do you suppose the wingnuts are freaking about the New Jersey Supreme Court decision directing the legislature to give gays rights that every other Garden Stater has? Count on it (and yes, one is a direct quote): Ace of Spades [Read More]
Tracked on October 26, 2006 12:50 PM
Captain Ed:
captain*at*captainsquartersblog.com
My Other Blog!
E-Mail/Comment/Trackback Policy
Comment Moderation Policy - Please Read!
Skin The Site

Hugh Hewitt
Captain's Quarters
Fraters Libertas
Lileks
Power Line
SCSU Scholars
Shot In The Dark
Northern Alliance Radio Network

Northern Alliance Live Streaming!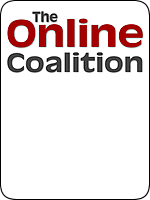 Proud Ex-Pat Member of the Bear Flag League!