« I Love LA
|
Main
|
Forced To Govern, Part 2 »
November 20, 2006
Forced To Govern, Part 1
The Democrats spent the last six years sniping from the sidelines without publicizing much of their own agenda. They made the valid point that any agenda they would propose would not get to the floor of the House or Senate under Republican control, and they concluded that they had no responsibility to formulate one -- at least not publicly. For three straight electoral cycles, they ran as the anti-GOP, and they finally succeeded in the last election in wresting control of Congress.
Ubfortunately, that forces the Democrats to actually pursue a political agenda -- and from what they've shown the voters, that should result in a very short time at the helm. First, Charles Rangel decided to revive the draft again, an idea he floated three years ago to the delight of Republicans:
The incoming Democratic chairman of the House Ways and Means panel says he will introduce a bill to reinstitute a military draft in order to provide the U.S. with more troops, while Sen. John McCain continued his call for increase of troop levels in Iraq.

Rep. Charles B. Rangel of New York first called for a draft in January 2003, when Democrats were the minority party in both houses of Congress. Now that his party controls Capitol Hill, he was asked yesterday on CBS' "Face the Nation" if he was still serious about the proposal.

"You bet your life. Underscore 'serious,' " he said. "I don't see how anyone can support the [Iraq] war and not support the draft," said Mr. Rangel, alluding to Mr. McCain's call for increased troop levels in Iraq and to the need to combat threats elsewhere in the world. "If we're going to challenge Iran and challenge North Korea and then, as some people have asked, to send more troops to Iraq, we can't do that without a draft."
Rangel actually gave a number of reasons in the past for reinstituting the draft, but bolstering the war effort in Iraq wasn't among them. Even yesterday, he told an interviewer that the main reason was to discourage the deployment of troops anywhere. He again made the claim -- refuted by an exhaustive Heritage Foundation study -- that the poor and powerless are overrepresented in the military.
This is, on its face, ludicrous. We have an all-volunteer army, which means that no group gets forced into overrepresentation. Rangel wants to make the typical liberal case that adults are incapable of free choice, and that government exists to protect them from the consequences of those choices. The volunteer military produces more motivated recruits and a more disciplined military corps than America has ever fielded in the past, because the men and women who comprise it chose to be there.
No one's "children" go into the military, and in fact many "kids from their [politicians'] communities" enter the military. The construct that calls military men and women "children" is insulting beyond belief. They're adults, and their parents don't send them into the armed services. Beyond that, however, Rangel simply repeats a canard about the composition of the military that continues to have great credence on the Left. As I discussed the week prior to the election, military recruits actually tend towards the better educated and economic middle:
In summary, the additional years of recruit data (2004–2005) sup­port the previous finding that U.S. military recruits are more similar than dissimilar to the American youth population. The slight dif­ferences are that wartime U.S. mil­itary enlistees are better educated, wealthier, and more rural on aver­age than their civilian peers.

Recruits have a higher percent­age of high school graduates and representation from Southern and rural areas. No evidence indicates exploitation of racial minorities (either by race or by race-weighted ZIP code areas). Finally, the distri­bution of household income of recruits is noticeably higher than that of the entire youth population. ...

By assigning each recruit the median 1999 household income for his hometown ZIP code as deter­mined from Census 2000, the mean income for 2004 recruits was $43,122 (in 1999 dollars). For 2005 recruits, it was $43,238 (in 1999 dol­lars). These are increases over the mean incomes for the 1999 cohort ($41,141) and 2003 cohort ($42,822). The national median published in Cen­sus 2000 was $41,994. This indicates that, on aver­age, the 2004 and 2005 recruit populations come from even wealthier areas than their peers who enlisted in 1999 and 2003.

When comparing these wartime recruits (2003– 2005) to the resident population ages 18–24 (as recorded in Census 2000), areas with median household income levels between $35,000 and $79,999 were overrepresented, along with income categories between $85,000 and $94,999. (See Chart 2.) Though the mainstream media continue to portray the war in Iraq as unpopular, this evi­dence suggests that the United States is not sending the poor to die
for the interests of the rich.
If anything, the draft created the kind of disparities that Rangel deplores, through college deferments for people with enough money to go to college. Rangel's new plan removes that loophole by stripping the choice for service from every man and woman in America. He plans on turning the military from the most effective fighting force in world history to the government's biggest social engineering program.
If one wants to see the difference between Republicans and Democrats, this gives a clear example. Rangel wants to solve a social ill that really doesn't exist, caused by too much choice, and use the government to eliminate all of the options available to Americans. Republicans have used a market approach to define the choices available and built the mightiest armed force in the world, by making sure the people who enter want to be there. We can expect to see this same template for health-care "reform", entitlement "reform", and a number of other "reforms" that the Democrats will now pursue.
UPDATE: Michelle Malkin reminds us that the Democrats used the draft as a scare technique during the 2004 presidential election, claiming that George Bush would stuff a draft down the throats of college-age Americans. Now we see which party freedom-minded young adults such fear.
Sphere It
View blog reactions
Posted by Ed Morrissey at November 20, 2006 8:48 AM
Trackback Pings
TrackBack URL for this entry is
Listed below are links to weblogs that reference Forced To Govern, Part 1:
» The Democrat Folly Continues from HILLARYNEEDSAVACATION
How do those so-called 'progressives' like the idea? [Read More]
Tracked on November 20, 2006 9:33 AM
» Rangel To Reintroduce Draft from It Shines For All
"Americans would have to sign up for a new military draft after turning 18 under a bill the incoming chairman of the House Ways and Means Committee says he will introduce next year. Rep. Charles Rangel, D-N.Y., said Sunday he... [Read More]
Tracked on November 20, 2006 10:40 AM
» Democrat Plan Summarized in One Word: Draft from Bill's Bites
See previous related: Rangel says he'll introduce a bill to bring back the draft Draft-mongering Dems Michelle Malkin They just can't help themselves. In case you needed to be reminded which party puts playing politics with the war above serious [Read More]
Tracked on November 20, 2006 10:52 AM
» Rangel The Drafter from Fly At Night
If America returns to the draft this is the man who made it happen ... [Read More]
Tracked on November 20, 2006 11:02 AM
» Rangel and Democrat Rule from Church and State
... The blogosphere fun with Rep. Charlie Rangel and his idea to introduce legislation to bring back the draft. [Read More]
Tracked on November 20, 2006 11:37 AM
» Democrat Congressman Wants the Draft Back-Brilliant!!?? from QT Monster's Place
Congressman Rangel-D, New York says he wants to bring the draft back. Can there be a worse idea? vadkinsQT Monster Blog Home [Read More]
Tracked on November 20, 2006 1:01 PM
» Charles Rangel Thinks He Owns You from GINA COBB
If Democrat Congressman Charles Rangel gets his way, everyone in America will be the government's slave for two years. He doesn't call it slavery. He calls it a draft. But if you look closely at what he's demanding, it's not just military service. It's... [Read More]
Tracked on November 20, 2006 1:55 PM
» The Draft from Sensible Mom
Wasn't the reinstatement of the draft one of the democrats' scare tactics in the 2004 election, only they claimed Bush was going to reinstate it? Sounds like a bad case of projection to me: [Read More]
Tracked on November 20, 2006 2:26 PM
» Charles Rangel is a Jack Ass from Wake up America
This jackass, Rangel, seems to think that the floor is a place to make statements instead of handling the business of the country.This is going to be the chair of the ways and means committee... what a joke.Once again, everyone say it with me.... Cha... [Read More]
Tracked on November 20, 2006 2:36 PM
» Wrangling on Rangel from A Blog For All
We've now got Democrat on Democrat as the incoming House Democrat leadership is taking Rangel to task for his insistence on submitting a bill authorizing a draft. Steny Hoyer says the draft is not on the agenda, and Nancy Pelosi says that the issue o... [Read More]
Tracked on November 20, 2006 8:02 PM
» Announcing Operation Brownshirt Jackass from Radioactive Liberty
Chuckles Rangle is calling for the draft again. Now we all know that there's no one in the anti-war camp that really wants a draft, what they really want is another PR campaign to wage against the war. If people were to be forced to fight, rather tha... [Read More]
Tracked on November 20, 2006 8:17 PM
Captain Ed:
captain*at*captainsquartersblog.com
My Other Blog!
E-Mail/Comment/Trackback Policy
Comment Moderation Policy - Please Read!
Skin The Site

Hugh Hewitt
Captain's Quarters
Fraters Libertas
Lileks
Power Line
SCSU Scholars
Shot In The Dark
Northern Alliance Radio Network

Northern Alliance Live Streaming!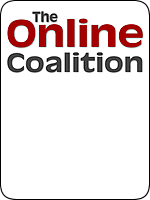 Proud Ex-Pat Member of the Bear Flag League!