« Did Plame Initiate The Niger Investigation?
|
Main
|
Missing The Point Twice Over »
February 7, 2007
Edwards Campaign Reconsidering Blogger Hires
The campaign of John Edwards, hailed for hiring two progressive bloggers for his 2008 Presidential campaign, has now said they will reconsider that decision in light of the blogging history of Amanda Marcotte and Melissa McEwan. The episode reveals the lack of vetting done by the Edwards campaign before hiring the two bloggers, and sets back the ability of bloggers to mainstream themselves into traditional political roles:
Two bloggers hired by John Edwards to reach out to liberals in the online world have landed his presidential campaign in hot water for doing what bloggers do — expressing their opinions in provocative and often crude language. ...

The two women brought to the Edwards campaign long cyber trails in the incendiary language of the blogosphere. Other campaigns are likely to face similar controversies as they try to court voters using the latest techniques of online communication.

Ms. Marcotte wrote in December that the Roman Catholic Church's opposition to the use of contraception forced women "to bear more tithing Catholics." In another posting last year, she used vulgar language to describe the church doctrine of the Immaculate Conception. ...

Ms. McEwan referred in her blog to President Bush's "wingnut Christofascist base" and repeatedly used profanity in demanding that religious conservatives stop meddling with women's reproductive and sexual rights. Multiple postings use explicit and inflammatory language on a variety of issues.
The New York Times gives a rather dispassionate description of the posts in question. In the case of Marcotte, her anti-Catholic screeds would make Jack Chick blush with embarrassment; the woman is an anti-Catholic bigot. Her posts on Catholicism venture far from rational opposition to its dogma and policies into screeching, obscene hatred. The examples given by the Times for McEwan appear to be of the same tenor.
As a Catholic, I'm less offended by the likes of Marcotte and McEwan than I am surprised that no one in the Edwards campaign thought it was a problem for their candidate. Catholics have overcome bad weather that had more impact on our faith than either blogger, but Edwards wants to court the Catholic (and Evangelical) impulses for social justice and peace to bolster his populist campaign. Surely someone on his staff had the responsibility to actually read the bloggers' previous work to see if it matched the tone Edwards wanted to set with the on-line community and voters in general. That someone should be fired right along with Marcotte and McEwan.
Unfortunately, we can expect this incident to make it harder for bloggers to make the transition into traditional political roles on campaigns. We already have a Wild West reputation for shooting off our mouths and thinking later, which I believe is mostly undeserved; the media will use this to reinforce that impression of the blogosphere. The truth is that the Edwards campaign didn't work very hard to keep a couple of Catholic-haters out of their payroll, and while the media will also report that, that will get missed for the more sensational story of those bloggers and the liability they represent.
The blogosphere features many talented and rational writers on both Right and Left, and even in between. It's incumbent on the campaigns that hire bloggers (and media outlets, too) to distinguish those from the frothing lunatics at all points on the political spectrum. Their failure to properly vet bloggers reflects much more on the values and competence of the campaign than it does on the blogosphere in general.
Sphere It
View blog reactions
Posted by Ed Morrissey at February 7, 2007 6:41 AM
Trackback Pings
TrackBack URL for this entry is
Listed below are links to weblogs that reference Edwards Campaign Reconsidering Blogger Hires:
» Another Chance from Blue Crab Boulevard
I really never read anything written by either Amanda Marcotte of Pandagon or Melissa McEwan from Shakespeare's Sister, or if I have caught bits and pieces, I don't really remember them. So I stayed right out of the blog c... [Read More]
Tracked on February 7, 2007 8:10 AM
» "Catholics Slam Bloggers Hired by Edwards"…Bill Donohue Lead's the Way. from Gun Toting Liberal ™
Newsvine.com: Catholics Slam Bloggers Hired by Edwards Two bloggers hired recently by Democratic presidential candidate John Edwards were criticized Tuesday by a Catholic group for posts they had written elsewhere on the Internet. Bill Donohue, pres... [Read More]
Tracked on February 7, 2007 11:02 AM
» 'Edwards Hires One of the Nastiest, Most Hateful and Foul-Mouthed Bloggers' from It Shines For All
"Presidential candidate John Edwards hired one of the nastiest, most hateful and foul-mouthed left-wing bloggers to be his campaign 'blogmaster,' Amanda Marcotte," Littlegreenfootball.com reports. Michelle Malkin posts a video and has more. Captain Ed ... [Read More]
Tracked on February 7, 2007 12:04 PM
» Can't you just picture Amanda Marcotte in Tony Snow's job? from Bill's Bites
... Read the whole thing. Michelle has this covered like dumb on Democrats. ... Edwards Campaign Reconsidering Blogger Hires Ed Morrissey The campaign of John Edwards, hailed for hiring two progressive bloggers for his 2008 Presidential campaign, has n... [Read More]
Tracked on February 7, 2007 12:41 PM
» Edwards fires blogmasters? & Other stories of suppression from The Anchoress
One of the paradoxes of free speech is that while you and I are (mostly, for the time being) free to say what we wish in this country, our words are not sacrosanct and untouchable - other free people are (mostly, for the time being) free to say what th... [Read More]
Tracked on February 7, 2007 3:33 PM
» Read Before Hiring from Mind of Mog
The blogging woes of two Liberal bloggers have made the news bigtime as they, having been hired by John Edwards, have let loose with some very anti-Catholic and offensive screeds, a couple of which are here. They appear to be anti-Christian and Jew to... [Read More]
Tracked on February 7, 2007 5:15 PM
» The sad tale of John Edwards' (now former) bloggers from Sister Toldjah
As I mentioned briefly in my last post, the mega-watt hot issue the last couple of days in the blogosphere has been the story about two popular left-wing bloggers that the John Edwards campaign hired as his 'official bloggers.' Several we... [Read More]
Tracked on February 7, 2007 8:09 PM
» amanda marcotte and melissa mcewan are still in after a spanking from Cao's Blog
This is getting to be funny watching these people battle back and forth. Dan Riehl has two posts, and Jeff has two about Amanda Marcotte and Melissa McEwan, John Edwards' disrepectful pottymouthed bloggers. Two more from Michelle Malkin, doing a ... [Read More]
Tracked on February 11, 2007 8:09 AM
Captain Ed:
captain*at*captainsquartersblog.com
My Other Blog!
E-Mail/Comment/Trackback Policy
Comment Moderation Policy - Please Read!
Skin The Site

Hugh Hewitt
Captain's Quarters
Fraters Libertas
Lileks
Power Line
SCSU Scholars
Shot In The Dark
Northern Alliance Radio Network

Northern Alliance Live Streaming!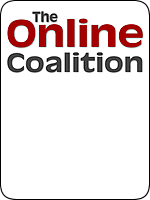 Proud Ex-Pat Member of the Bear Flag League!